Harajuku is a must see for anybody visiting Tokyo. Even if you find yourself just spending one day in the city, make sure you head here! My fiance and I spent a week in Tokyo and found that there was plenty of opportunities to head back here just to people watch!

Outside Harajuku station
The crowds gather early...

It isn't hard to see why Harajuku has become such a honey pot for the youth of Japan. In 1964 Harajuku's station became the gateway to Tokyo's Olympic village, drawing scores of international visitors. This resulted in an influx of young and fashionable Tokyoites looking to Harajuku as the place 'to be seen'.

Takeshita dori is a fantastic street located just a stones throw away from Harajuku station. In the early 1990s, this was the place to buy fake and counterfeit goods. In 2004 the government had a major crackdown on such goods being so freely available and now, it is the place to go to buy clothing, gifts and accessories from the many independent boutiques that line each side of the street.
Takeshita dori

Even the graffiti is pretty...

In my original Japan travel blog I mentioned Angel Hearts and Marion Crepes. Two fantastic crepe shops, directly opposite each other. If you have the stomach for it, sample one from each and tell me what you think. I had a #21 from Marion Crepes, custard and ice cream with chocolate sauce…one was enough for me!

For a bit of peace and quiet, head to Meiji Jingu, a Shinto shrine dedicated to the Emperor Meiji and his wife the Empress Shōken. The shrine can be found by heading over Jingu bridge (the one where all the cosplay and visual kei types hang out on Sundays).
Meiji Shrine is located in a forest that covers an area of 700,000 square-meters (about 175 acres). This area is covered by an evergreen forest that consists of 120,000 trees of 365 different species, which were donated by people from all parts of Japan when the shrine was established. The forest is visited by many as a recreation and relaxation area in the center of Tokyo. Wikipedia.com.
Torii
The last and most impressive torii

The last of the main torii before the main shrine is one of the most impressive. Made from 1500 year old cypress trees from Mount Tandai-san in Taiwan. The whole structure is 12 meters high.
Main shrine courtyard

Traditional Japanese Shinto weddings happen quite frequently at the shrine. Processions can vary in size but it is always great to see a newly wed couple in traditional wedding attire.


Newly wed couple

Gwen Stefani sung about them, fashion designers have based their collections on them and any good guide-book will tell you to go see them. Harajuku is now synonymous with 'Harajuku girls' and cosplayers (both girls and boys). Try get there as early as you can (within reason) but be prepared for a crush of photographers and tourists all eager to fill their cameras! I have been told by friends who have been that some do not like their pictures been taken and will lift their hands up to stop you. This is perfectly understandable so please respect their privacy and always ask permission! I never had this problem but it depends who is there…
 
Jingu bashi
 
Be prepared for extreme fashion statements!
 
Gothis and Lolita fashion...
 
Lolita kei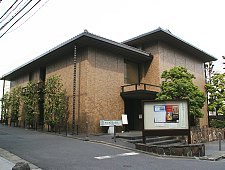 Ota Memorial Museum of Art
A fantastic little museum not far from the hustle and bustle of the station and Omotesando. The museum is dedicated to the late Ota Seizo, whose vast collection of ukiyo-e prints are displayed inside (the collections are changed every month so keep checking back to try to see them all…if you can!).
Kiddy Land is a mecca for anybody who can't resist cartoon/anime merchandise. Situated on Omotesando (Tokyo's Champs-Élysées) it is not hard to miss! Each floor is dedicated to different types of cartoon characters. There is for example a Snoopy floor and of course a Sanrio section featuring Japan's best love cat…Hello Kitty. Another shop worth visiting down Omotesando is the Oriental Bazaar, a great place to pick up souvenirs as well as traditional craft items.

Kiddy Land

A stroll around Yoyogi Park and a shopping splurge in LaForet are a couple of other activities that can be fit in to any busy Harajuku itinerary. Just wandering around the side streets and alleyways can amaze and excite!
Harajuku station is on the JR Yamanote Line, only a couple of stations south from Shinjuku, a great base if staying in Tokyo!
Hachiko bus